Working at Feldhoff & Cie.
From its origins in 2003 as a one-person business, Feldhoff & Cie. has since grown into an experienced organisation of some 30 committed staff members. Only together have we become who we are today: the leading communications consultancy in the German real estate sector.
What makes our team unique? We bring together a variety of educational and professional backgrounds, skills and competencies, areas of special expertise and focus, approaches and personalities to offer our clients a wide range of services and innovative ideas which are carefully and thoughtfully tailored to individual client needs.
We love new challenges and fighting to achieve the best results. We act entrepreneurially while supporting our colleagues unconditionally. We believe that's important to be involved politically and socially – and above all we never forget to enjoy each other's company and to have fun!
Our offices in Frankfurt's WestendCarree
On 28 February 2020, we moved from Eschersheimer Landstrasse 55 to our new offices in the new WestendCarree tower at Grüneburgweg 14. We as a company, as well as all of us as individuals, are extremely pleased with our new offices, which are professional and stylish while at the same time comfortable and spacious, combining large open spaces with cozy corners and quiet areas.
Our new offices are modern yet timeless, prestigious and yet quietly calm, decorated with works of art which impress with tasteful understatement. And especially important, especially in the era of COVID-19: lots of spaces for separate work, spacious conference rooms for corona-compliant meetings, and resilient cloud server structures to support remote working.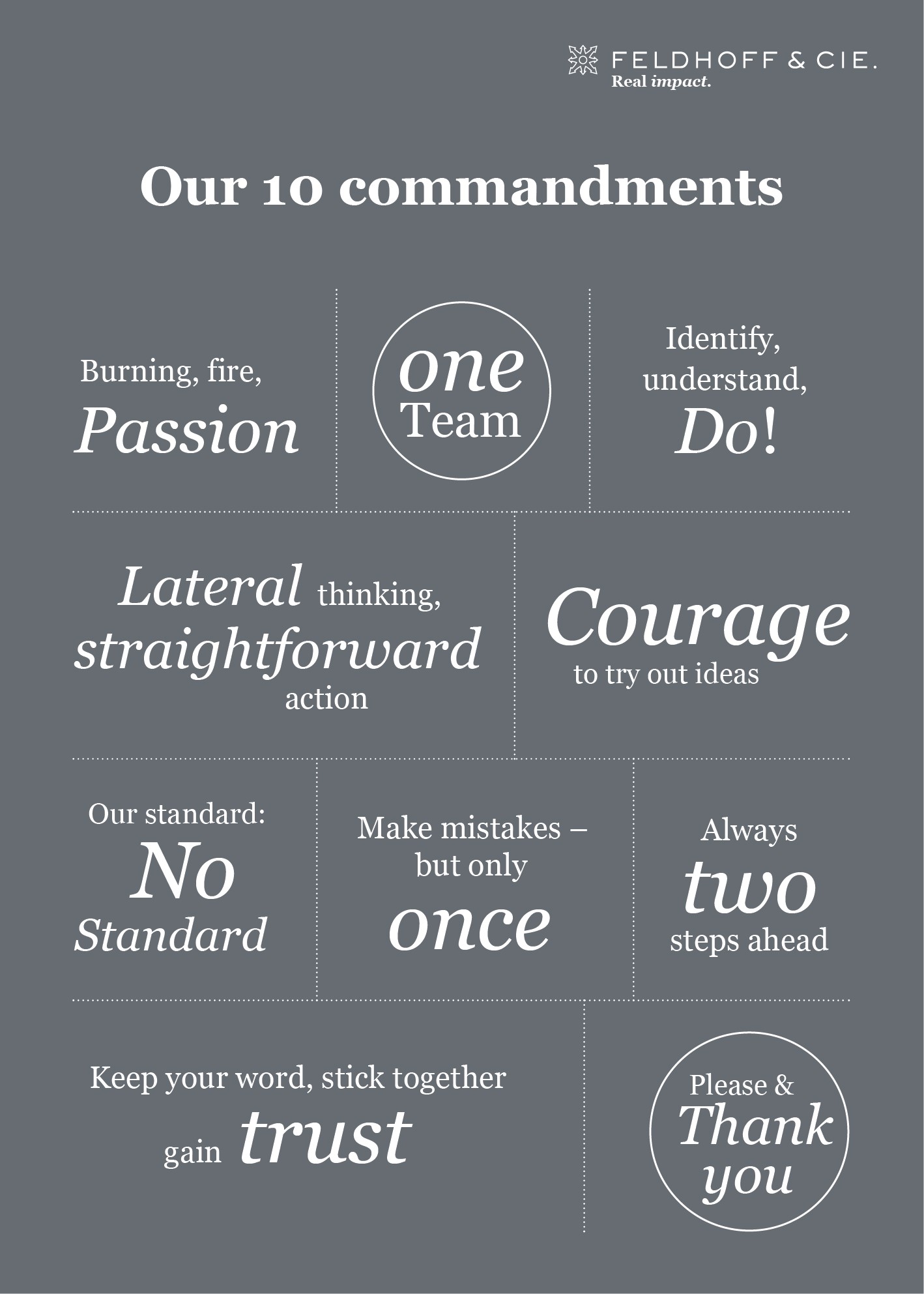 Why Feldhoff & Cie.?
As a dynamic company which values personal commitment and achievement, Feldhoff & Cie. offers above-average compensation, opportunities for contact with the movers and shakers of German real estate through our powerful and exclusive network, a wide range of training and learning opportunities, flexible working hours, and an open, supportive and highly motivated team.
Interested in joining us?
Then click here to learn more about current job openings.
ONE Team
In addition to our monthly "Thirstdays", our restaurant meals together, our summer social events and our annual Christmas party, we hold a multi-day strategy meeting once a year, including interesting workshops and fun team-building exercises. In recent years these have been held in such exciting destinations as Kitzbühel in the Austrian Alps, in the Palatinate with its vineyards and castles along the Rhine, in Barcelona, and even a classic car roadtrip up the Main River to Löwenstein Castle in the wine village of Kleinheubach.